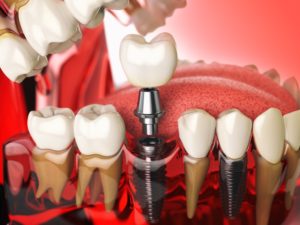 Are you ready to invest in your smile with dental implants in Virginia Beach? That is great! They give you the next best thing to your natural teeth when choosing them to treat your tooth loss. You must undergo a surgical procedure to fill the empty spaces in your smile. Although you might be concerned about a painful treatment, you have nothing to fear. In fact, many patients report it to be no worse than having a tooth extraction. Here is what you can expect to ensure a comfortable recovery.

Placing Your Dental Implant Posts
The first stage of your treatment involves surgically placing your implant posts into your jawbone. Since this creates a successful foundation for your new smile, it is best to choose a qualified and experienced dentist in Virginia Beach to handle your procedure.
CT scans taken during your consultation process are used to pinpoint the precise location for your implant posts. Sedation or anesthesia is used during the surgery, so you will not feel any pain. Your oral surgeon opens your gum tissue to expose your jawbone. Small holes are drilled into it to allow each post to be inserted. Your tissue is then sutured closed and the healing process begins.
Recovery Process
It is normal to experience some pain during the next few days following the placement of your implant posts, but you can easily manage it using over-the-counter pain relievers. You may also have some discomfort and swelling in the chin, cheeks, and underneath the eyes. Applying cold compresses to the outside of your mouth for 20-minute intervals helps minimize swelling and bruising.
It is best to stick to a soft diet for about 2 weeks to avoid causing irritation to the surgical sites and to reduce the potential for additional discomfort. While you heal, you must maintain your oral hygiene, but be careful when cleaning the implant posts. You can also use a warm salt water rinse to ease irritation and to help keep your mouth clean.
It takes several weeks for your jawbone to heal and fuse to the implant posts. Afterward, you need a second minor surgery to attach abutments to your posts, which act as connector pieces for your restorations. Often, a local anesthetic is used while your gum tissue is opened to expose the posts to attach them. Your gums may be sore for a few days, but it will quickly heal around the abutments to create a natural-looking gum line while also sealing out bacteria.
Invest in a Beautiful Smile
The process of getting dental implants is not as painful as you might think. Your dentist strives to keep your comfort a top priority for a stress-free journey to a complete smile.
About Dr. Amrish Patel
Dr. Amrish Patel provides advanced dental services to promote his patients' quality of life, including dental implants. He is qualified in the procedure to ensure successful results. If you are ready to replace your missing teeth, contact our office today to schedule your consultation.