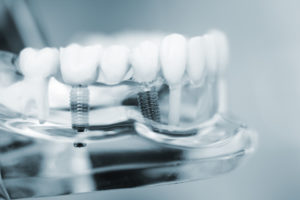 One question that many people have about dental implants in Virginia Beach is how long they last. While the exact answer varies from one person to the next, in most cases an implant can last from 10 years to a lifetime. The key to enjoying the most benefit from dental implant therapy is to take care of yourself. A healthy body and healthy implants are two sides of the same coin.
What Makes Implants Similar to Your Natural Teeth
A dental implant offers many benefits over older forms of treatment. One reason for this is the fact that implants can protect you from bone loss, an advantage unmatched by alternatives such as traditional dentures. The key to this benefit is the fact that a properly placed implant literally becomes part of your body through a process dentist call osseointegration.
The bones in your jaw are living organs. They require nutrients as well as exercise in order to stay healthy. For them, the best form of exercise comes from everyday tasks like chewing foods. When they fail to receive his natural stimulation they can begin to dissolve.
When this happens the patient's face may become distorted. While this problem can often be corrected through bone grafts, the ideal solution is to prevent it from occurring in the first place.
This is where implants come into the picture. Unlike dentures, they provide the stimulus your jaw and facial bones need to stay viable. This is true of all types of implants, including implant-enabled crowns, bridges and dental plates. But your jaw needs more than stimulation to stay healthy. It also requires good self-care habits on your part. These include:
Eating a healthy, well-rounded diet that includes plenty of lean protein, calcium and fresh fruits and vegetables.
Avoiding all forms of tobacco. Cigarettes, cigars, pipes, etc. have devastating consequences on physical health. Not only can they cause your natural teeth to decay, they rob your body of essential vitamins.
Drinking alcohol only in moderation. Excess consumption can have even worse effects than tobacco.
Getting regular exercise. Physical activity keeps your muscles stout, your bones strong and your cardiovascular system in good shape.
Getting enough rest. When you sleep, your body repairs damage and decline caused throughout your waking hours.
Brushing, flossing and seeing your dentist in Virginia Beach for regular checkups and cleanings. This is essential for keeping decay-causing bacteria in your mouth at bay.
Following any other tips recommended by your dental professional.
Those who take good care of themselves are far more likely to enjoy long-term benefits from their implants. On the other hand, failing to take care of yourself can lead to premature implant failure.
When all is said and done, implants are like any other smart investment. You get out of them what you put into them. Following the basic self-care tips outlined in this post can improve not only your oral health but every aspect of your life. That's a great way to build a solid foundation for a bright and happy future.