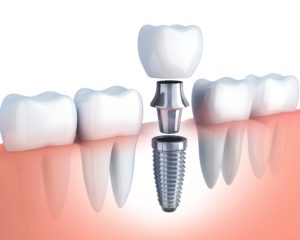 If you're missing a tooth, you're probably already self-conscious about the way it can make your smile look. You might have trouble eating certain foods or saying certain words. Dental implants in Virginia Beach are a pretty big investment, but going too long without replacing your missing teeth can have serious consequences. Let's look at 7 things that happen if you don't get dental implants.
1. Jawbone Loss
Your jawbone receives stimulation from your tooth roots through biting and chewing. When you're missing a tooth, however, that area of the jawbone no longer receives the exercise it needs, and starts to deteriorate. This can cause your face to sag and make you appear older.
2. Teeth Misalignment
When you're missing a tooth, the adjoining teeth will naturally shift to try and fill in the gap. This could require expensive orthodontic treatment to fix the problem. Additionally, it could destabilize the roots of the surrounding teeth, causing them to erupt more than they should and become loose.
3. Change of Facial Structure
The structure of your face has a lot to do with the structure of your teeth. When you're missing a tooth for a while, that area of your face can start to droop, causing a severe blow to your appearance and your confidence.
4. Overload on Surrounding Teeth
Having a tooth missing places more stress on the adjoining teeth to get the same amount of work done. This increased pressure on these teeth makes them more likely to develop problems like injuries as they become weaker over time.
5. Chronic Headaches
When your remaining teeth have no teeth opposite them to bite onto, it can cause headaches. In addition, the teeth you still have may overerupt, hurting the opposing gums and resulting in pain and even bleeding.
6. Problems with Speaking and Chewing
Obviously, you'll have trouble chewing, as you don't have as many chewing tools in your mouth as you used to. This can result in problems with the rest of your digestive system if you didn't break down the food in the mouth all the way. Trying to speak may create a whistling sound that can be embarrassing.
7. Sinus Expansion
This problem occurs specifically when teeth are missing from the upper back jaw. Because the sinus cavity is located right above this area, it can expand and erode your jawbone.
Dental implants are the best way to prevent all 7 of these problems from occurring. If you are interested in preserving the structure of your jawbone, contact your dentist in Virginia Beach today.
About the Author
Dr. Amrish Patel attended dental school in India before coming to the United States and earning his Doctor of Dental Medicine degree from Boston University in 2011. He is an active member of the American Academy of Implant Dentistry and achieved Fellowship status in the Academy of General Dentistry in 2017. To learn more about how dental implants can save your mouth, click here or call (757)-490-3111.