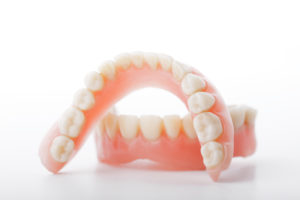 Many people take their ability to eat, smile and laugh for granted – until they lose their teeth! Then the value of a full set of teeth becomes all too apparent. Fortunately, dentures in Virginia Beach are a great way to restore your smile and overall quality of life after tooth loss. And having the option of getting Dentures in a Day is also helpful because it means that you don't have to spend any time without teeth. Learn more below about the great reasons for getting dentures and whether you may be a candidate for Dentures in a Day!
How Can Dentures Serve You?
While there are many good reasons to get dentures, the primary reason is simply the need to restore your smile after it's been affected by tooth loss.
Tooth loss not only prevents you from comfortably eating a variety of foods, but there's also the emotional toll and embarrassment that people experience from being unable to smile.
The good news is that dentures restore the look and function of your smile. In addition, they're a budget-friendly choice and (when made immediately after having your teeth extracted) mean that you don't have to walk around without teeth for even one day!
Who Is a Good Candidate For Dentures In a Day?
Any patient who needs to have their teeth extracted and wants an immediate replacement can benefit from Dentures in a Day (also called same-day dentures).
The main criteria patients should meet is having adequate gum tissue and underlying bone mass in their jaws to support the denture and keep it in place. However, since each patient is unique, the first step to make sure you're a good candidate is to schedule a consultation with a restorative dentist in Virginia Beach who can evaluate your dental history, oral health and overall goals.
Also, it's important to note that same-day dentures are great as an immediate solution, but you may need your dentist to "re-line" them after the first 3-6 months to restore their initial fit, function and comfort.
That's because the gums will naturally shrink during the healing process after the teeth have been extracted, causing the dentures to fit differently than they did when they were first made. Thankfully, a re-line is a simple procedure that can fix this issue easily and quickly.
Tooth loss has the potential to be devastating, but dentures are a tried-and-true way to get your smile, self-confidence and quality of life back!
About the Author
Dr. Amrish Patel is a general, cosmetic and restorative dentist in Virginia Beach who understands the impact that tooth loss can have on his patients' lives. He offers multiple options for tooth replacement, including Dentures in a Day, so that he can best serve each patient's unique needs. If you've experienced tooth loss and have any other questions, he can be reached via his website or at (757) 490-3111.