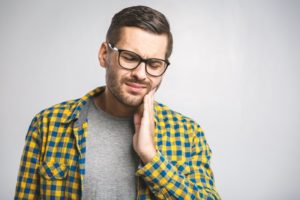 Have you ever been chewing on a piece of popcorn, and then crack—you feel instant pain in your tooth? Dental disaster can strike at any moment and many people don't know what to do when it does. Thankfully, your emergency dentist in Virginia Beach has a list of common dental emergencies, so you'll know what to look out for in the future. Keep reading to learn about some of the most common emergencies that can happen to your smile and how to handle them from a trusted dentist.
#1: Your Tooth Gets Knocked Out
Whether it's from a fall or a physical sport, you could get a tooth knocked out, typically by physical force. In order to save your tooth, pick it up by the crown to avoid damaging your tooth's roots. Then, rinse it off and try to place it back in your socket. If this isn't possible, keep it stored in water or milk until you see your dentist. The sooner you get into the dentist's office, the better chance you have of your tooth being successfully replanted.
#2: You Crack Your Tooth
If you have cracked or broken teeth from dental trauma, call your dentist immediately. Apply a cold compress to the affected area to keep swelling down, and you can take over-the-counter pain medication until you can get in to see your dentist.
#3: Your Temporary Dental Crown Comes Off
If you notice that your temporary crown is loose or coming off, try to save it before swallowing or losing it. You can put a tiny bit of Vaseline on the back of your crown to temporarily stick it to your tooth. However, you'll want to get in to see your dentist as soon as possible for a replacement.
#4: You Have a Toothache or Abscess
If you think you have an infection, call your dentist right away for treatment. An infection can cause a tooth abscess, which can lead to a spreading infection that can affect your whole smile and jaw.
If you have a toothache, try flossing around the area to make sure that there's no food debris causing you problems. Then, if the pain persists more than a few days, visit your dentist to get it checked out.
#5: You Have a Broken Jawbone
If you break your jaw, you need to see your dentist or go to the emergency room immediately. Make sure to keep a cold compress on the affected area, and don't eat solid foods until you see a professional.
Now that you know about some of the most common types of dental emergencies, you'll know exactly what to do the next time that you have tooth pain in Virginia Beach.
Meet the Dentist
Dr. Melvin Cruser and Dr. Amrish Patel are a team of dentists who love taking care of their patients. They believe in patient education, which is why they want you to know what to do if dental disaster strikes. They currently practice at Lakeshore Dental, and they can be contacted through their website or by phone at (757) 490-3111 for any questions.