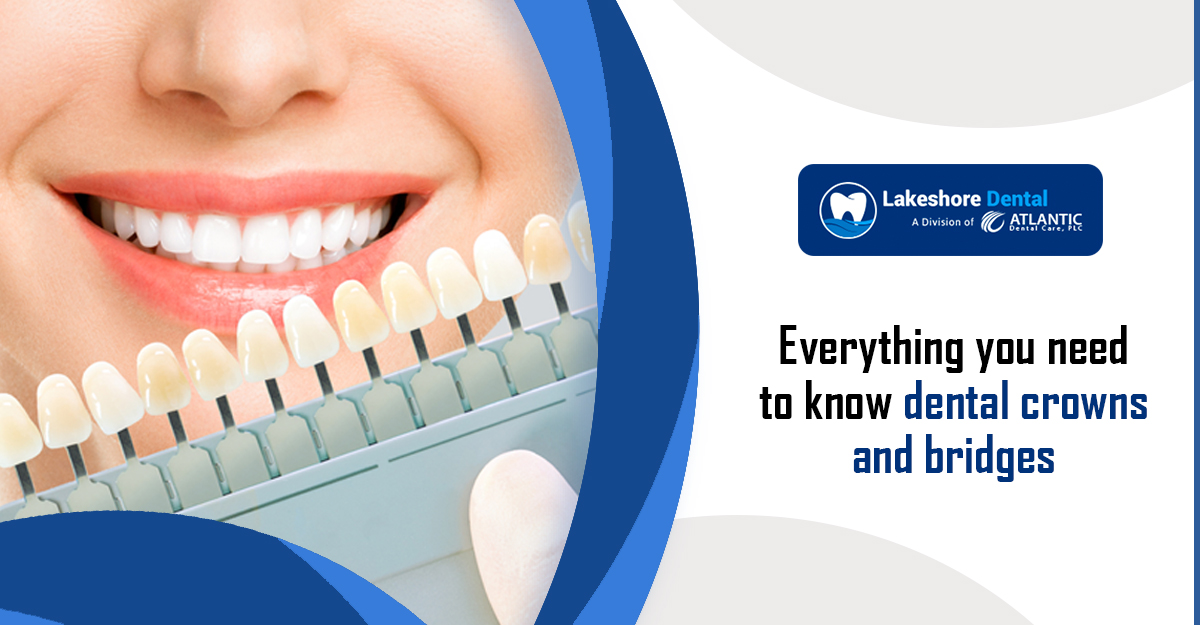 Dental crowns and bridges are versatile dental restorations that can transform your smile and restore the functionality of your teeth. If you're considering dental crowns or bridges, Lakeshore Dental in Virginia Beach is here to provide you with comprehensive information and exceptional dental care. 
In this blog post, we will cover everything you need to know about dental crowns and bridges, including their purpose, benefits, the procedure involved, and how Lakeshore Dental can help you achieve a healthy and beautiful smile.
1. Understanding Dental Crowns:
Dental crowns are custom-made caps that cover a damaged or weakened tooth. They are designed to restore the tooth's shape, size, strength, and appearance. Crowns can be made from various materials, including porcelain, ceramic, metal, or a combination of these materials. They provide a durable and long-lasting solution for teeth that have undergone extensive decay, trauma, or root canal treatment. Dental crowns not only enhance the aesthetics of your smile but also improve the functionality of the affected tooth.
2. Exploring Dental Bridges:
Dental bridges, as the name suggests, bridge the gap created by one or more missing teeth. They consist of artificial teeth, called pontics, which are supported by dental crowns on adjacent healthy teeth or dental implants. Dental bridges not only restore your smile by filling in the gaps but also prevent the remaining teeth from shifting out of position. They improve your ability to chew, speak, and maintain proper oral hygiene.
3. The Dental Crown and Bridge Procedure: 
The dental crown and bridge procedure typically involves two visits to Lakeshore Dental. During the initial visit, your dentist will prepare the affected tooth or teeth by removing any decayed or damaged portions. The tooth will be reshaped to create a suitable foundation for the crown or bridge. Next, your dentist will take impressions of your teeth, which will be used to fabricate your custom restoration. A temporary crown or bridge will be placed to protect the prepared tooth while the permanent one is being made. During the second visit, the temporary restoration will be removed, and the permanent crown or bridge will be carefully fitted and adjusted for a precise fit. Once the dentist ensures that the restoration looks and feels natural, it will be permanently bonded in place.
4. Benefits of Dental Crowns and Bridges:
Dental crowns and bridges offer numerous benefits, including:
Restoration of the natural appearance of your smile
Enhanced tooth strength, durability, and functionality
Improved ability to bite, chew, and speak properly
Prevention of shifting and misalignment of neighboring teeth
Protection of weakened teeth from further damage
Long-term solution for missing teeth
Boosted confidence and self-esteem with a complete and beautiful smile
5. Lakeshore Dental: Your Partner for Dental Crowns and Bridges:
At Lakeshore Dental, we prioritize your oral health and overall well-being. Our experienced team of dentists is skilled in providing high-quality dental crown and bridge restorations. Using advanced techniques and state-of-the-art technology, we ensure precise and comfortable treatment for our patients. Our compassionate and knowledgeable staff will guide you through every step of the process, addressing any concerns and customizing your treatment plan to meet your unique needs.
Conclusion:
Dental crowns and bridges are effective solutions for restoring damaged, weakened, or missing teeth. Whether you require a dental crown to protect and enhance a single tooth or a dental bridge to replace multiple missing teeth, Lakeshore Dental in VA is dedicated to providing you with exceptional care and beautiful, long-lasting results.
Schedule a consultation with our experienced team and take the first step towards achieving a healthy and confident smile.