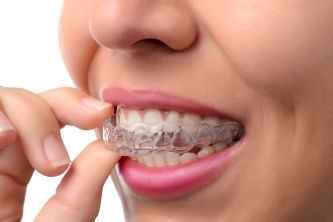 If you want to straighten your teeth with Invisalign, chances are that you want to do it as quickly and inexpensively as possible. It's easy to see why it's tempting to use a DIY method like 3D printing your trays from home or using a service like Smile Direct. But without professional guidance, there are some significant risks to be aware of! If you want the best results possible, keep reading to learn why it's in your best interest to see a cosmetic dentist for Invisalign in Virginia Beach.
Why Should You See a Dentist For Invisalign?
Here are just some of the good reasons to have a cosmetic dentist oversee your Invisalign treatment:
Accurate impressions mean better trays– The more accurate your impressions are, the more effective your trays will be at moving your teeth. With Invisalign, a dentist will take digital impressions that are far more precise than what you can take on your own.
You'll see virtual results – A dentist will also scan your teeth so they can show you virtual results before you begin treatment. You'll also be able to see how your smile is progressing over time.
More effective movement– At your first Invisalign appointment, a dentist will put small, tooth-colored "attachments" on your teeth to anchor your clear trays. This helps them put pressure in just the right places so they can move your teeth properly. DIY trays simply won't be predictable.
Accountability– If something goes wrong during your DIY treatment, you won't have any recourse. With Invisalign, you'll have a professional who's accountable for your results.
You won't have to spend more later to correct problems – In many cases, DIY methods cause additional problems that cost money to correct later on. By seeing a dentist, your Invisalign treatment will be done right from the beginning.
What Is the Invisalign Process Like?
After you've had a consultation with a cosmetic dentist in Virginia Beach, you can get started in just a couple of visits. Here's what the process is like:
A dentist will take digital impressions that the Invisalign lab will use to custom-make your trays.
Then you'll return about 3 weeks later to pick up your first set of trays and have the temporary tooth-colored attachments put on.
Next, you'll put your first set of trays in and get instructions for wearing and maintaining them.
Then you'll switch to a new set of aligners every 2 weeks and return for progress visits every 4-8 weeks to pick up additional trays.
Orthodontic treatment is an investment that will pay off for life. To make sure you get the smile you've always wanted, it's best to leave Invisalign to the professionals!
About the Author
Dr. Amrish Patel is a cosmetic dentist in Virginia Beach and a graduate of Boston University. With advanced training to provide Invisalign, he works closely with his patients from start to finish to make sure they get the beautiful results they're after. If you're considering Invisalign and have any other questions, he can be contacted via his website.