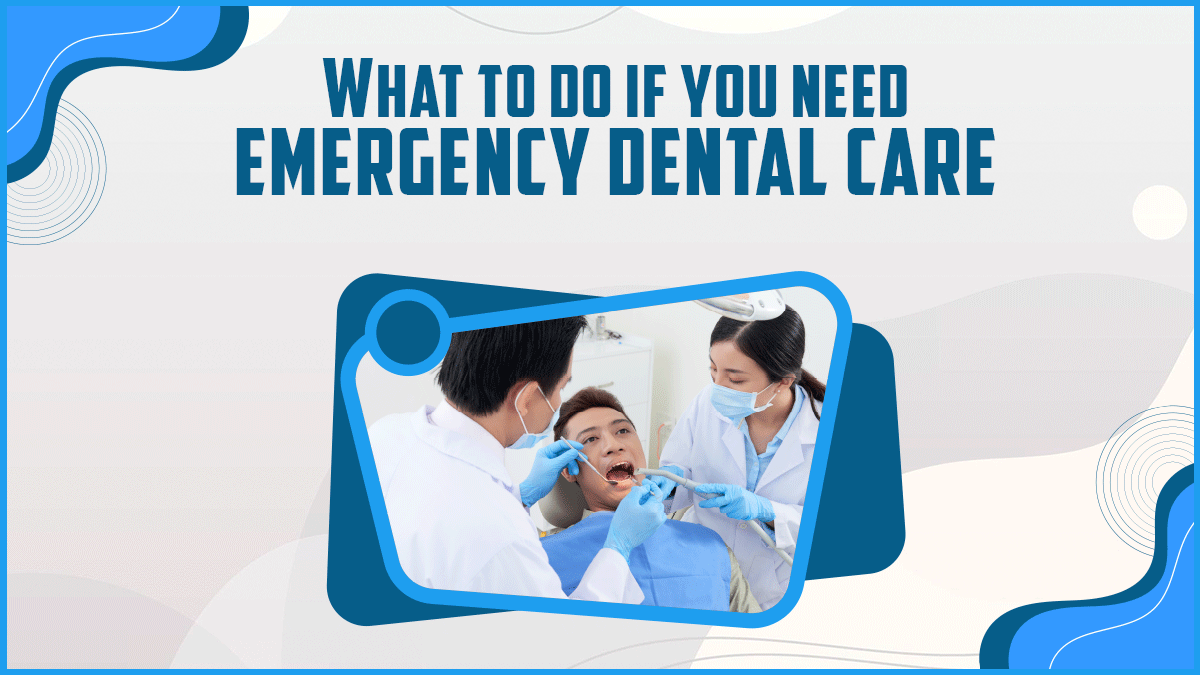 Dental Care Emergency can befall you anytime. While some may call for immediate dental care, some may need a regular intervention. It is always better to identify who you should visit when it's an emergency! Your symptoms and severity of condition determine if you must see your dentist or pay a visit to a local emergency room. 
What is a Dental Emergency?
A regular dental check-up demands routine cleaning, X-Rays, and consultation every six months.
A dental emergency is a situation that usually requires obvious and immediate action against severe pain, discomfort, or trauma to the mouth that may cause bleeding and lacerations to the gums and dislodge or fracture teeth. Occurrences such as lost fillings, chipped veneers, or broken dental appliances, though causing extreme inconvenience — don't constitute an emergency.
Dental Emergency Symptoms and Treatments Check
You need to check on this list that follows to remain informed about the common dental emergency symptoms and some rapid treatments that can provide you instant relief! There are mainly five types of symptoms observed in dental emergencies:
1. CRACKED or BROKEN TOOTH
Many reasons are underlying a cracked or broken tooth, of which some are bruxism, aging, injury, and thermal stresses. If you have a cracked tooth and drinking cold fluids is painful, bite on moist gauze or cotton to help reduce symptoms till you visit the dentist.
2. KNOCKED-OUT TEETH
Teeth can be knocked out from either a severe blow to the mouth or an accident. If there are knocked-out teeth, follow these tips to collect and store the knocked-out tooth till you reach the dental office.
Avoid touching the root; hold only the crown
Check if it is possible to place it back on the socket
You can put it between your cheek and gum or in a container of milk
Use a cold, wet compress to stop bleeding
3. TOOTH, TEETH, or JAW PAIN
Your pain may be related with
Infection caused by swelling, fever, a sour taste, or difficulty swallowing
An abscessed tooth with pain coming from the tooth's pulp canal that may require antibiotics, drainage, or root canal
4. BLEEDING OR ACHING GUMS
Periodontal disease is caused due to excessive and frequent bleeding along with aching gums. It requires :
Treatment for healthy gums, teeth, tissue, and bones
Treatment varies according to the severity caused
5. SOFT TISSUE INJURY
If you get severe bites or cuts to your lip or tongue, urgently
Clean the affected area gently with water
Apply a cold compress to restrict bleeding
Visit a medical professional for severe bites or cuts that require stitches
What to do when I need emergency dental care?
If you feel any of the symptoms mentioned above, quickly reach out to your dentist's office. If you receive a voicemail, they'll most likely provide you with an emergency contact number or instructions. Leave a message explaining your symptoms in detail. If pain and discomfort continue to prevail, visit your closest emergency room, and determine if a dental visit is necessary.
If you need an emergency dentist in Virginia Beach, 'you can turn to us at Lakeshore Dental.