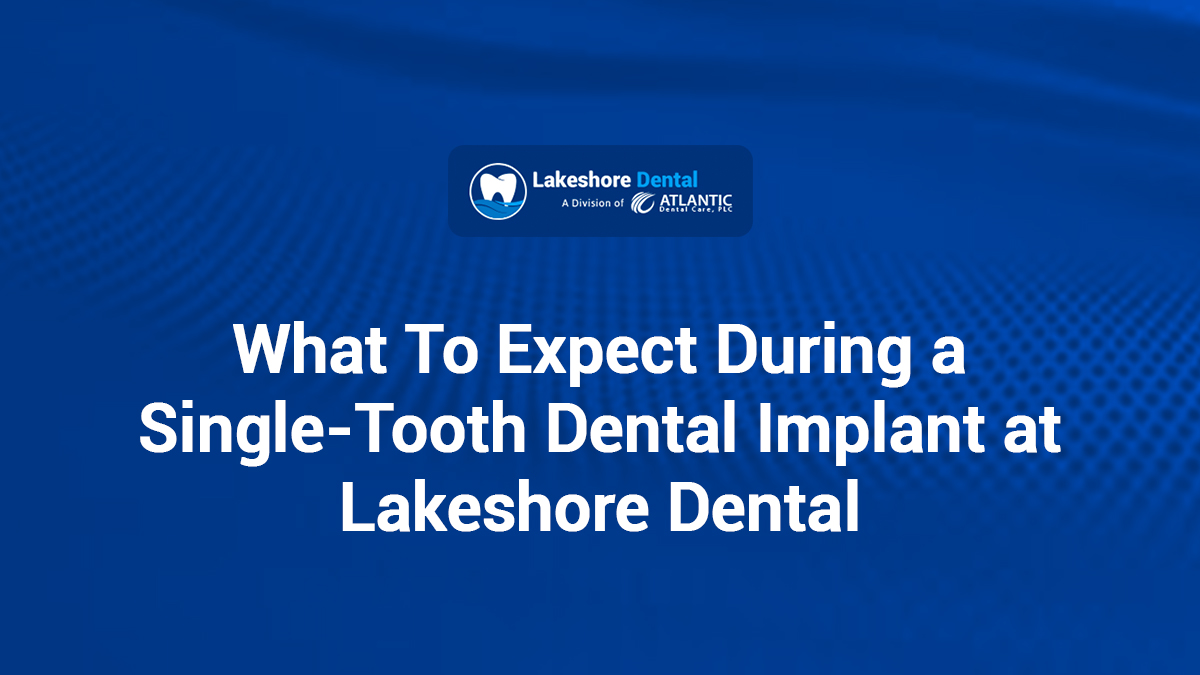 Losing a single tooth can have a significant impact on your oral health and self-confidence. Thanks to modern advancements in dentistry, single-tooth dental implants have become a popular and effective solution to restore your smile. At Lakeshore Dental, we understand the importance of affordable dental implants that don't compromise on quality.

In this article, we'll walk you through what to expect during a single-tooth dental implant procedure at our clinic.
Understanding Single-Tooth Dental Implants:
A single-tooth dental implant is a permanent replacement for a missing tooth. It consists of three main components: the implant itself, the abutment, and the dental crown. The implant is surgically placed in the jawbone, the abutment connects the implant to the crown, and the crown serves as the visible, functional tooth.
Step 1: Initial Consultation:
Your journey to a restored smile begins with an initial consultation at Lakeshore Dental. During this appointment, our experienced dental professionals will assess your oral health, take X-rays, and discuss your treatment options. We'll provide you with information about the procedure, the expected timeline, and the cost of affordable dental implants.
Step 2: Treatment Planning:
After a thorough evaluation, we'll create a personalized treatment plan tailored to your unique needs. We'll discuss the type of implant, material options, and any additional procedures that may be required, such as bone grafting or extractions.
Step 3: Implant Placement:
On the day of the procedure, our skilled dentist will surgically place the dental implant into the jawbone. This is a minor surgical procedure performed under local anesthesia to ensure your comfort. The implant serves as the foundation for your new tooth and stimulates the jawbone to prevent bone loss.
Step 4: Healing Period:
Following implant placement, a healing period of several weeks to a few months is required. During this time, the implant fuses with the jawbone through a process called osseointegration. You may be provided with a temporary restoration to maintain aesthetics and function.
Step 5: Abutment Placement:
Once the implant has successfully integrated with the jawbone, an abutment will be attached to it. The abutment connects the implant to the dental crown and is often a separate minor procedure. This step prepares the implant for the final crown placement.
Step 6: Crown Placement:
The final step involves placing the dental crown onto the abutment. The crown is custom-made to match your natural teeth in color, shape, and size. This ensures a seamless blend with your smile, and the crown will function just like a natural tooth.
Conclusion:
At Lakeshore Dental, we prioritize providing affordable dental implants without compromising on quality or results. A single-tooth dental implant can transform your smile and restore your confidence. Our experienced team will guide you through each step of the process, from consultation to crown placement. If you're seeking a reliable and comfortable dental implant experience, Lakeshore Dental is here to help you regain your beautiful smile. Contact us today to schedule your consultation and take the first step towards a renewed smile!